Rubber Vibration Isolation Mounts
ND Series Rubber Vibration Isolation Mounts
Light to heavy duty rubber mounts. low profile, high deflection. Mount is supplied with cadmium cap Screw and washer.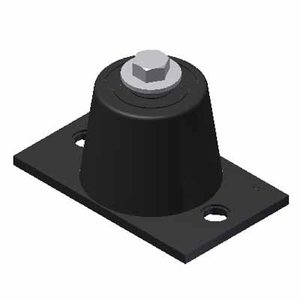 Applications – Non-Seismic
Fans
Pumps
Air Compressors
Power Generators
Chillers
Roller Doors
Electrical Switchboards
Deflection
Options
Capacity
Specification
Neoprene mountings shall have a minimum static deflection of (9mm). All metal surfaces shall be Neoprene covered to prevent corrosion and have friction pads, both top and ottom. Bolt holes shall be provided on the bottom and a tapped hole with cap screw and washer on top. Mountings shall be Type ND, as manufactured by Mason Industries, Inc.
R/RL & RC/RCL Series Rubber Levelling Mounts
Light to heavy duty rubber levelling mounts. Perfect for isolating high speed machinery. Mountings can be used with or without plated steel glide cups or levelling bolts. Furnished with 3/8 – 16 or 1/2 – 13 tapped holes or studs to accommodate large or small holes in the machinery leg.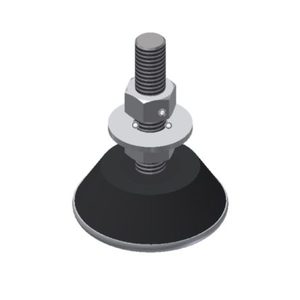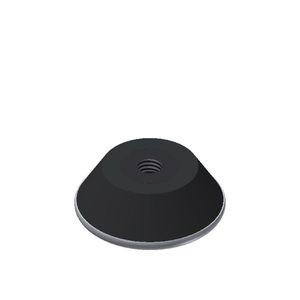 Advantages
Neoprene resists oil, oxygen and ozone.
Upper plate provides uniform mounting loading.
May be bolted directly without levelling for economy.
Without glide cup, friction keeps equipment in place
With glide cup, equipment can slide on vinyl floors or short fibre carpet.
Purchase with levelling stud (L) when levelling is required.
Configurations
R – Tapped Mount Only
RL – Mount with Levelling Stud, Nut and Washer
 RC – Tapped Mount with Glide Cup
RCL – Mount with Glide Cup and Levelling Stud
Applications – Non-Seismic
High Speed Machinery
Bandsaw
Condensing Unit